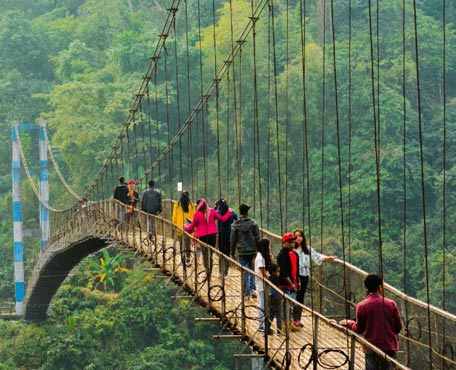 Destinations Covered: GUWAHATI - SHILLONG – CHERRAPUNJEE - MAWLYNNONG - DAWKI

Duration: 05 Days/ 04 Nights

Day 01 - GUWAHATI - SHILLONG
Your Meghalaya sightseeing tour consisting of 4 nights and 5 days begins after you arrive at Guwahati airport. From here, begin your drive to Shillong.On the way, make a halt at Borapani Umiam Lake. It is a famous picnic spot and is exactly the kind of place for nature lovers. The chain of hills that surround it, coupled with the clouds that cast their shadows over it, lend it an extraordinary beauty. There are various legends associated with the lake, one of which is that it was formed by the tears of a local deity.After arriving, complete your check in formalities at the hotel.Stay overnight at the hotel.

Day 02 - SHILLONG
What better way to start a day than a hearty breakfast.Head out on a local sightseeing tour of Shillong, the capital city of Meghalaya. Its natural beauty, which is characterized by waterfalls, meadows and valleys, looks like a well written poem by nature.Some of the popular tourist attractions in Shillong which you will be visiting are Cathedral Church, Lady Hydari Park, the Orchidarium, Elephant Course and the Golf Course. Each of these places offer a perfect mix of sightseeing and exploration.After enjoying your visit to the famous tourist attractions in Shillong, make your way to the Shillong Peak, also known as the View Point. The splendid views that this place affords sends a rush of excitement in you.Stay overnight at the hotel.

Day 03 - SHILLONG - CHERRAPUNJEE - SHILLONG
A hearty breakfast awaits you in the morning. This is followed by a drive to Cherrapunjee, which is one of the wettest places in the world.You will be visiting the Nohkalikai Falls, which One of the must see places in Cherrapunjee. It is the tallest plunge waterfall in India which drops from a height of 1115 ft. The plunge pool at the base of the waterfall is noted for its deep green coloured water. You can also check out the other caves dotting this place. Begin your drive back to Shillong.On the way, make a brief halt and visit two beautiful places to visit in Cherrapunjee, Elephanta Falls and Shillong Peak.Elephant Falls are a three tiered waterfall, where each tier can be viewed through a stairway. Situated atop a hill inside an Indian Air Force Station, the views from here closely resemble that of Scotland. The views of the canyons and the meadows below, with the clouds caressing them from above, makes for some incredible photography and bring that smile to your face naturally.Return to Shillong in the evening.Stay overnight at the hotel.

Day 04 - SHILLONG - MAWLYNNONG - DAWKI - SHILLONG
A delicious breakfast awaits you in the morning. Then it's an enjoyable drive to Mawlynnong, which is renowned for being the cleanest village in Asia. Other places to see in Mawlynnong are Tree House, Living Root Bridge, Sky View Point and Balancing Rock.All this wonderful sightseeing in Meghalaya is followed by a wonderful lunch.River Umngot in Dawki is your next destination, a place so beautiful it is always included among the must see Meghalaya tourist places for nature lovers. The water of this river is so crystal clear that you can see the plants, stones and other marine life in it. The river also serves as the gateway to Bangladesh. Return to Shillong.Stay overnight at the hotel.

Day 05 - SHILLONG - GUWAHATI
This is the last day of your Meghalaya tour itinerary. A delicious breakfast awaits you in the morning, which is followed by drive back to Guwahati.After arriving, get transferred to the airport to resume with your onward journey.